New Range of Hygiene Protection Products
28/07/2020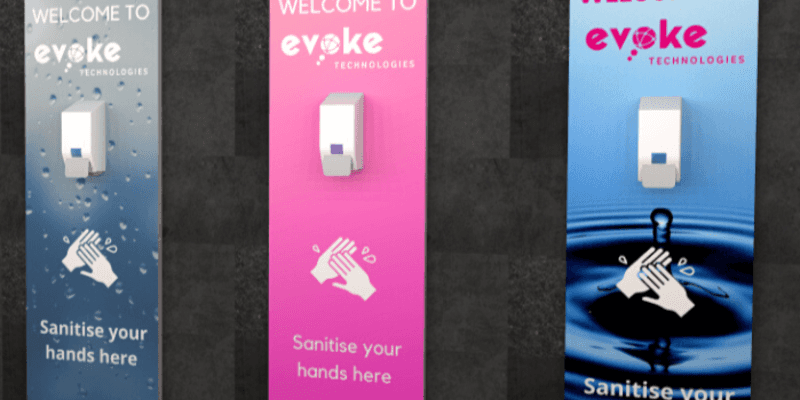 With newer Government guidance such as the face mask mandate and the 1-metre-plus rule coming into motion, it is more important than ever to protect staff and customers at work. To help with efforts to stay safe in the workplace, Evoke has released a range of new hygiene products.
A Multifunctional Sterilisation Box, Mobile Charging Stations for iPad & Tablets and Personalised Hand Sanitising Solutions are new additions to the range.
Multifunctional Sterilisation Box
An all in one multifunctional sterilisation box that kills 99.99% of viruses, germs and bacteria. The sterilisation box is a fast and effective way to disinfect everyday objects, such as smartphones and keys which can be a harbour for numerous germs and bacteria. These items can deem hand washing pointless if these objects are touched soon after.
By using the convenient UVC sterilisation box, you can kill germs and viruses on the frequently used object in just 5-10 minutes whilst still charging your smartphone. You can even relax with the calming aromatherapy diffuser while it cleans. Multiple small items can be sterilised at one time and the UV light can even reach the small nooks and crannies.
Find out more here.
Mobile Charging Stations for iPad and Tablets
Charging and disinfecting your iPads and tablets has never been easier with Evoke's new 20 bay iPad and tablet storage charging unit. Providing an easy way to keep your mobile devices germ free, these charging stations are ideal for effective hygiene use in Nurseries, Schools, Colleges, Hospital and Workplaces.
The device comes with built-in UVC sterilisation lamps, and includes door-switch to disable UVC light when opened ensuring safe operation.
Find out more here.
Personalised Hand Sanitising Solutions
With a bespoke design that caters specifically for your environment, fast delivery and easy installation, these personalised hand sanitising solutions keep staff and customers safe while also giving visitors the confidence that all Government hygiene guidelines and measures are met.
Evoke have developed an extensive range of social hand sanitising solutions to help businesses prepare and comply with the government social distancing and hygiene measures that are in place during and after the Coronavirus crisis.
Find out more here.
Call Evoke on 01482 460920 or email sayhello@evoketech.co.uk get in touch here to discuss how our hygiene products will fit to your workplace requirements. You can find out about our other hygiene products here.
Tell Us How We Can Help
Fill out the form below and our team will be in touch as soon as possible.